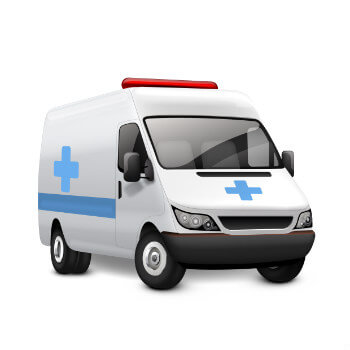 How funny could it be that the very thing that could save your life could also potentially kill you with its skyrocketing cost afterward?
Yes, I'm talking about that awesome vehicle with a blinking red light with a siren sound and runs as fast as the speed of light. Well, sort of!
After all that's been said and done and you walked out of the hospital unscathed like nothing happened, you'd feel relieved at having been able to escape a narrow brush with death. But when they handed you the bill, you end up needing another oxygen tank and a blood pressure monitor after seeing the emergency ambulance price.
What gives?
Average Cost of an Ambulance Ride
Whether the ambulance is government-owned or run by private individuals, there's no telling exactly how much it is going to charge you as it depends on a lot of factors.
Sometimes, it can be much more expensive than the treatment you received from the emergency room of a hospital where you were brought, to be honest. It is even easy to see someone having been charged $3,000 for a short emergency trip nowadays.
With a life on the line, you wouldn't really have the luxury of time, much more a choice during these frantic times. You would likely to swallow the bitter pill of having to pay an arm and a leg as long as they could get there in the nick of time and save a life.
But being someone who doesn't leave everything to chance, it doesn't hurt to check out some prevailing rates out there.
That being said, we were able to search some service providers which are generous enough to post their current charges.
BestCareAmbulance.org has the following base rates and loading fees:
| | |
| --- | --- |
| Basic Life Support | $ 1,200.00 |
| Basic Life Support | $ 1,300.00 |
| Advanced Life Support 1 | $ 1,400.00 |
| Advanced Life Support 1 Emergency | $ 1,500.00 |
| Advanced Life Support 2 | $ 1,800.00 |
| Specialty Care Transfer | $ 2,100.00 |
Meanwhile, their mileage charges (per loaded mile only, no charge for unloaded miles) are the following:
| | | |
| --- | --- | --- |
| Basic Life Support Mileage | $38.00 | Per Loaded mile |
| Advance Life Support Mileage | $38.00 | Per Loaded mile |
| Long Distance Mileage | $45.00 | Per Loaded mile |
On the other hand, the ambulance prices/rates for BrandonFire.ca are the following:
Ambulance Services:

Emergency & Non-Emergency Medical Response

$550.00

Discontinuation of Resuscitation in the Field

$550.00

Special Event Rate (includes 2 staff members) billed to the organization requesting standby service:

Rate for first 3 hours

$400.00

For the fourth and subsequent hours

$200.00

Long Distance Ambulance Trips:

Winnipeg Base Rate: (includes return trip same day)

$1,333.00

Waiting time (per hour)

$75.00

Excluding Winnipeg:

$162.00/ hour

The Cancellation Fee of $45 will be charged if a trip is canceled after the personnel has been called in to provide the service.
And just how much does government charge for the same services? Here are the base rates of City of Irving in Texas.
| | | | |
| --- | --- | --- | --- |
| Service | Resident | Resident 65 & up | Non-resident |
| Basic Life Support (BLS) | $750 | $650 | $850 |
| Advanced Life Support (ALS) 1 | $850 | $750 | $950 |
| Advanced Life Support (ALS) 2 | $950 | $850 | $1,050 |
What are Included
It's easy to point out how expensive we think the ambulance charges are not knowing how exactly things are being calculated. Aside from the cost of the vehicle itself and its maintenance, labor and training of the staffs attending the emergency, the equipment that are included and being utilized while attending the same, and the basic supplies that come with the service also play the part.
And don't forget the readiness that comes with the service. You wouldn't want to wait for the service just when you need it the most, right? You want it ready 24/7. So while most of the time it is idle waiting for someone to call for help, all the costs are continuously running like a wild taxi meter.
Additional Costs
The rate you would be quoted by the service provider would typically be the basic cost unless you got yourself an "all-in" service or "fixed rate", which is very rare.
That being said, we have gathered some other costs that you might be seeing on your bill.
Medical supplies – these would be the foremost extra expenses you would likely see; the cost of the oxygen if you're having a difficulty in breathing, gauze, and solutions if you are bleeding, neck brace if you have an injury, among others.
Expertise of the staff – You also need to consider additional charges depending on what type of emergency response personnel is inside the vehicle. If a critical care nurse, a respiratory therapist, or any other type of specialized care is required, then prepare to pay more for these.
Additional mileage – every ambulance has a standard route mileage. So if the patient would ever be transported to a distant hospital due to the nature of the condition, then prepare to pay a much higher fee.
Additional trips – there are cases where a patient won't be admitted in the first hospital it was brought to and would be needing transfer to another healthcare facility which is more capable in handling a specific condition. This naturally calls for additional charge due to the additional effort and cost.
There are also some things you might want to consider having at home that could help you either identify emergency case from not or just something to treat yourself or a patient. These items may not necessarily save your life but can potentially give you more time to prepare yourself before the much-needed help gets to you.
First aid kits – There are available first aid kits at Amazon which you could store in your medicine cabinet so that you could attend to your needs or that of someone you love when the need arises.
Blood pressure monitor – if you suspect having a heart issue, a wrist monitor with heart rate which can be purchased at Amazon might come in handy.
Oxygen – it never hurts to have some of this at home especially if you or your family members have a history of breathing difficulty for whatever reason.
Factors Affecting Ambulance Price
To better understand what makes ambulance rates so irritably high, we have listed down the most common cost factors of the service.
EMT or paramedics – you think all ambulance staffs are the same; a driver and those attending to the patient. Little did you know that the expertise or specialization of the personnel have a big impact on what you are going to see on your bill.
Location – as we keep on saying, your location would almost always factor in the cost of everything. How cheap or expensive it is to maintain a business in your area would largely appear on your healthcare cost. And that includes the ambulance service.
Public or private – whether the ambulance is a privately-owned or government-run, you won't even notice in the service but most probably in the figures on the bill. Government-owned is likely to be cheaper.
Insurance – emergency cases are naturally covered by insurance whether fully or partially, which depends on your coverage. So the best thing to do is to talk to your insurance provider about emergency service so that you would know what to expect and not get the shock of your life.
Another problem arises during the settlement where you are likely be struggling to justify whether your case really did call for emergency services or not. So good luck to that!
Case – the type of medical response applied to every patient depends on the type of illness he or she is having and the level of threat to life. Not only does it have to do with the type of expertise of the staff accompanying the patient but also the type of medical supplies and equipment that will be used.
Distance – most ambulance rates have base rates that are limited to the number of miles that the vehicle has to run. The farther the destination, the higher the bill will be.
Type of service – the type of charges would also depend on whether it's an emergency response or a standby service in an important event.
Mode of payment – like most of the medical services around the country, ambulance service also give discounts to non-insured patients paying in cash within a specified period of time.
Additional Information
The logic is very simple, it is very costly to maintain a business like an ambulance service and the collection rate is also typically low. So we cannot really blame the business owners if they charge seemingly ridiculous amount.
In all honesty, if we would start digging to the very core of what makes the service as expensive as it is, we may never hear the end of it anytime soon.
One food for thought though – when life is on the line, or at least you think it is, call an ambulance without having to think about the potential bill. After all, your life or that of a loved one is more important above anything else.
As long as the service, no matter how painful it is on the pocket, as long as it can give us a good fighting chance at avoiding an early trip to heaven or hell, I think we'll be just fine.