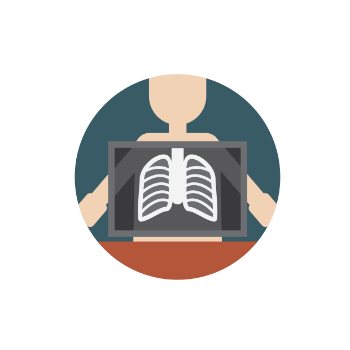 If you go to your physician or are in an emergency room with a chest injury, chest pain, or shortness of breath, you will generally get a chest X-ray. It uses a particular kind of radiation to take images of the chest cavity, including the lungs, the heart, airway, and blood vessels.
This X-ray will assist your physician in concluding if you have any heart issues, a collapsed lung, broken ribs, pneumonia, emphysema, cancer or another serious condition. Two pictures will be taken; one from the back of the chest and then another one from the side. Now, let's talk about the price of a chest x-ray.
Average Cost of Chest X-ray
Well, so, how much does a chest x-ray cost?
For uninsured clients, on average, a chest X-ray will cost around $420, with a range from $120 to $2,100. These prices include a frontal, frontal and lateral, or complete chest x-ray. Again, this can vary significantly with where you go and what type of discount they present to you for paying up front.
See sample cost estimates for facilities in random areas below.
Table 1: Average cost of chest x-ray from different facilities in America, provided by New Choice Health
| | |
| --- | --- |
| Healthcare Provider | Average Cost |
| | $500-$1,300 |
| | $220-$575 |
| | $480-$1,250 |
| | $130-$320 |
Table 2: Average cost of affordable chest x-ray in several countries by Medigo.
| | | |
| --- | --- | --- |
| Country | Medical Provider | Price |
| Israel | | $ 212 |
| Russian Federation | | $ 125 |
| Turkey | | $ 86 |
| Morocco | | $21 |
| Ukraine | | $ 17 |
Cost of Chest X-Ray with Insurance
In general, a chest X-ray will be covered by health insurance, but there may be a copay of around $10-$50.
You should visit your insurance company's site or contact them right away to figure out what is included. An excellent imaging facility will help you settle this with your insurance company too.
If you have a prescription in a US hospital, the facility will typically first charge your insurance provider, and then give you an invoice for the remainder. You will receive a breakdown of the chest x-ray cost in the bill. However, if you do not get a bill, ask the hospital to send it to you.
If you cannot manage to pay the whole amount in full, there are plans offered to pay the bills in installments. The more extensive your health insurance policy, the better. You are less prone to be hit with a hefty bill following a stay in a hospital if you have good health insurance.
In Healthcare Bluebook, the cost of chest X-rays if you have insurance would range from $54.00 to $170.00, with a fair price of $68.00. This fair amount was calculated from actual costs health plans have paid on claims.
Chest X-Ray in Hospitals
Normally, the value of a procedure or test in a hospital is higher than a freestanding imaging center. There are some reasons for this:
Hospitals have higher overhead prices since they're accessible 24/7, offer more health care services such as emergency care, and employ a larger staff.
Hospitals charge uniquely. They frequently incorporate revenue codes on their bills that take into consideration the high cost of the operation of the hospital itself.
The imaging machine employed may be modified.
In short, it would be better you go for a freestanding imaging center instead of a hospital.
Shopping for a Chest X-ray
You'll still pay part of the cost out-of-pocket, even though your insurance does cover most of your X-ray. Be sure you're obtaining the best care for your money:
Your family doctor or a professional can do a referral to an imaging center or hospital. Or, you can find a comprehensive list of accredited imaging facilities on the internet.
A typical hospital or imaging facility has a radiologist to evaluate the X-rays result. The radiologist must be accredited by the American Board of Radiology.
You should ask your insurance provider ahead of time regarding your payments, such as your co-insurance, co-pay, and deductible, so you know what to anticipate.
If you are uninsured, you could still ask the imaging facility about the price of a chest x-ray. Some centers will grant a discount if they know you're shouldering the expense on your own.
Make your inquiry and examine several imaging centers in your area, if it's not an emergency. Freestanding imaging facilities, in general, have more affordable prices than hospitals, so ask your doctor why they're referring you to a particular center.
Check your bill to be sure you've been priced for the correct test or procedure.
Conclusion
The exact process can fluctuate in cost depending on the location the procedure is executed. Hence, it is important that you make some time to shop around for the best center in your area that fits you and your requirements.
Keep in mind that cheaper isn't always better if you're just looking for an answer to "how much does a chest x-ray cost?". Make certain you know why a doctor is referring you to a particular facility. They might have valuable insight into the quality of the service.
Perform your investigation beforehand to find the best radiologist, facility, and price, to help you reduce the stress these procedures bring.