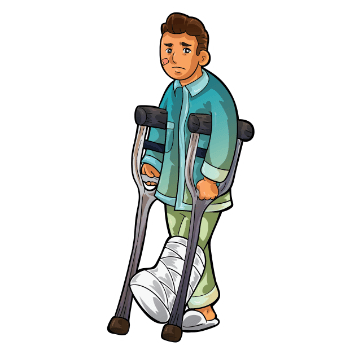 If you have recently been in an accident or have just undergone surgery, you've probably been issued crutches to support the movement and to help you get from one place to another. And whether it's lifelong or needed for only a short while, it is essential that you find the perfect crutch for you.
So, to help you do just that, here's a guide on what you need to know, where you can purchase, and most importantly, the crutches cost nowadays.

Average Cost of Crutches
A crutch is a common piece of medical equipment that serves as a walking aid for people who have sustained injury or are recovering from a surgical procedure. It is designed to keep the pressure and weight off the leg or foot, as well as assist in balance and stability while enabling you to continue your daily activities. And it works by allowing you to support your weight through your arms and hands.
The most common types of crutches you'll see in the United States are underarm, also known axillary, which is priced at $15 to $50, and forearm which costs around $25 to $280. Now, these estimated prices range only apply to types of crutches made with the most basic material, which is aluminum steel, and are of the simplest designs. A more superior material, such as bariatric steel, can raise the price of underarm/axillary crutches to $40 to $195 and forearm to $30 to as much as $400.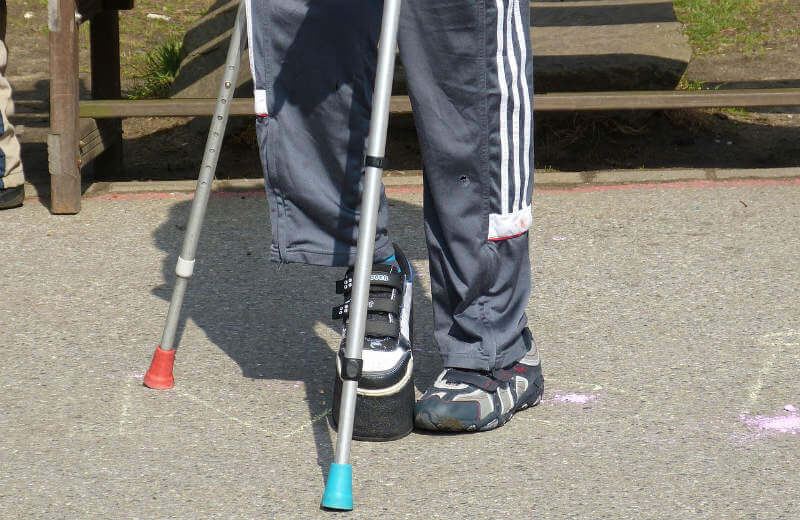 What are Included
Buying crutches is pretty simple. And usually, you can use it immediately the way it is. But, in some instances, accessories are necessary not just to personalize but more on to experience comfort and ease. And the most common accessories you can add on crutches are:
Crutch Tips: These are pieces of rubber you place at the tip of crutches to add additional grip and shock absorption and to avoid skidding. You can buy 8 pieces from Allegro for only $11.87 or a pair at CVS pharmacy for $4.99.
Crutch Pillow: These are padded fleece cushions that are added to provide more comfort during use. Furthermore, they are made to prevent axillary nerve damage, bruised underarms, and calloused hands. And at Walmart, they have it for sale at $9.96.
Crutch Pads: These are replacement pads that help prevent pain from walking around on crutches for an extended period of time. You can buy them at Walmart for $6.24 a pair or two pairs from CVS for $9.99.
Forearm Cuffs: Forearm replacement cuffs are created to eliminate the uncomfortable feeling of rivets and hinges while using a forearm crutch. And you can purchase them at Millennial Medical for $19.99 a pair or at Allegro for $16.25 a pair.
Instead of buying one of each, there are crutch accessory sets available too. You can buy arm cushions, hand grips, and tips in one box at Walmart for only $14.37 or at Vitality Medical for $7.67.
Shopping for Crutches
Crutches are actually quite easy to find. They are sold at pharmacies and drug stores, and here are some examples of where you can go and find one:
CVS Pharmacy: CVS Pharmacy is the largest pharmacy in the United States where you can find some basic to more advanced types of crutches. Their axillary and forearm types cost around $30 to $130 for a pair.
Walgreens: Find everything you need on crutches by dropping by at Walgreens, the second largest pharmacy store next to CVS. They have underarm and forearm crutches which cost from $25 to $130 a pair and leg support for $150.
Walmart: Their axillary and forearm crutches are $15 to $280 a pair.
You could try to shop online as well through the following websites:
Allegro Medical: A trusted online supplier of home health care supplies and home medical equipment, Allegro offers many choices. Their crutches are around $16 to $400 for a pair.
Vitality Medical: If you're looking for low-cost walking aids, try Vitality Medical. They provide discounted hospital equipment and medical products. Their simple crutches go for $13 to $120.
SmartCrutch: Don't like traditional crutches? Try smartCrutch's practical and innovative designs. Their crutches can be both forearm and platform and can be bought around $65 to $120 a pair.
Millennial Medical: Offering a new and improved version of the axillary crutches, Millennial Medical's design is light, foldable and reduces the impact on one's wrist and underarm. Their "In-motion" pro crutches cost $120 for a pair.
Factors That Matters
There are five types of crutches, and all are very different. To help you understand, here's a simple definition of each:
Underarm / Axillary – the Most common type used, where the pads are beneath your armpits and your hand is holding the grip. These types require less upper arm strength compared to others and require very little training as well. They're recommended for temporary disabilities and injuries, that's why they're so cheap.
Forearm – Used by slipping each arm into a cuff and holding onto the grip. Forearm crutches are best for people with weakness in both legs.
Platform – A crutch you should use when you cannot bear weight on your wrists. These have paddings for comfort and are usually for long-term usage. So, they don't go for less than $135.
Leg Support – Helps if you only have a problem with the lower part of a single leg. These are used by strapping the injured leg into a support frame which allows your weight to be transferred to the thigh or knee. And they cost $150 for a unit.
Strutters – Made to eliminate the issues with underarm crutches, strutters support a user's weight without causing harm on the nerves and blood vessels in the axillary area (the area where your arm connects with your shoulder).
Not all crutches are the same, and some come with some pretty cool added features. For example, the forearm child crutch which Vitality Medical offers is complete with safety features such as night light, horn, and reflectors. Plus, it has a built-in knee rest platform. But, additional features would mean a higher price. And that's why it's for sale at $160 a pair.
You will usually see crutches made of aluminum steel, and they are not bad at all. However, if you want a more durable crutch to literally lean on, you can go for the ones made by bariatric steel. But, it will cost you more. To give you an idea, CVS pharmacy offers an aluminum forearm crutch that has the weight capacity of 250 lb. for $108. And Allegro Medical has a bariatric forearm crutch with the weight capacity of 700 lb. that's priced at $400. But this is just to show you an example. Not all crutches made with bariatric steel costs beyond $200.
Additional Information
If you're wondering if your insurance will cover crutches, the answer is yes. BUT, higher-end crutches not so much unless needed. With a health insurance, the cost may go less than $5 or more than $100, depending on the type of crutches. For example, if you are enrolled in Medicare Part B, you'll only have to pay 20% of the Medicare-approved amount.