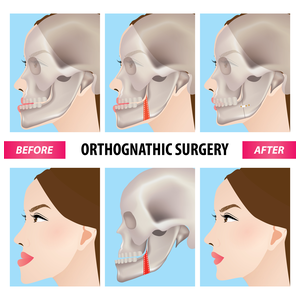 Do you have any problems with your jaws?
A jaw defect may affect your speech, chewing functions, sleeping habits, long-term oral health, and aesthetic look.
Jaw surgery, or the orthognathic surgery, is the operation that corrects your jaw and other related skeletal deformities. If you are a candidate for this treatment, you should know how much does jaw surgery cost.
Average Cost of Jaw Surgery
One of the primary questions that patients have about this surgery is its expenses. The average cost of jaw surgery varies a fair amount since no two patients are alike. But you still can get a picture about the cost from this article, even though it might be a little different in your case.
Below are several factors that influence the cost of jaw surgery:
Location
The hospital that will host the surgery
Type of the condition
The complexity of the patient's case
Orthodontic fees
Additional procedure required
Reason for the surgery (medical or cosmetic)
The patient's insurance policy
However, location is the biggest factor in evaluating jaw surgery price. The price within the USA varies from state to state. In larger states and cities with high cost of living, the surgery could cost thousands of dollars. Nationally, the Jaw surgery cost ranges from $3000-$80,000.
Fees Included in Jaw Surgery
This consists of the use of the facilities, such as the ward, the operating theater, the administrative staff, the nursing staff, the medicines, and materials.
The hospital fee ranges from $10,000-$50,000, depending on the time taken for the operation, the length of the stay in the ward, section of Ward taken, etc.
Hospital charges in California can be assumed to be the quite expensive compared to other states in the USA.
These costs consist of the fees of the attending surgeon, the second surgeon or assistant, and the anesthetist. The cumulative professional fee could range from $18000 to $22000, depending on the complexity and time required for the operation.
This cost fluctuates from $2000 to $20,000, depending on the condition of the patient, and if their jaw still needs to have fixed braces or not.
Some patients are required to wear braces a year before and another year after surgery. This may cost you around $5,000.
Anesthesia will cost from $1,000 to $5,000. Additionally, you may have to shell out an additional $200 to $350 for lab fees.
Most insurance companies will cover the jaw surgery price if it is performed for medical purposes, causing your payment to come down by 40 to 60%. Even government subsidies can be applied for this treatment. However, if the surgery is done for cosmetic reasons, your insurance provider won't cover the cost at all.
For instance, Mr. Rejnold Deromemaj, who works for FedEx Products and Services, had upper and lower-jaw reconstruction surgery. He spent $20,000 in surgeon fees, $78,000 in hospital charges, and $5,000 for anesthesia. But he only paid $1,400 out of his own pocket because of the insurance provided by his employer.
This surgery is more expensive in the United States than anywhere in the globe, as usual. Below is a list of the average cost of jaw surgery abroad, according to Medigo.
| | |
| --- | --- |
| Country | Average Price |
| | $4,689 |
| | $5,000 |
| | $7,169 |
| | $6,050 |
| | $26,550 |
Phases of Jaw Surgery Treatment
This phase will include consultation, record-taking, and discussion of the medication plan with you. The method of operation is performed jointly by an oral and maxillofacial surgeon and an orthodontist. The oral and maxillofacial surgeon examines your jaw deformity and determines the type of jaw surgery most suited for your situation. The orthodontist plans where braces will go to help align your teeth, in preparation for the operation.
The cost of this phase is generally negligible. The visit typically takes around 30 minutes and costs the patient $100 to $350.
Stage 2: Pre-surgical Orthodontic Treatment
Lots of patients undergo an initial period of pre-surgical orthodontic treatment or braces before surgery. This is so that your teeth align properly, for a stable, long-term fix. The entirety of this phase may take 9 to 18 months. The exact time taken will vary based on your condition, age, cooperation and other factors.
In most cases, some teeth will need to be extracted. This may cost you $50 to $90 per tooth, while braces will range from $3,500 to $8,000. However, orthodontic treatment can be paid gradually over the course of the treatment, which is about two years.
Jaw surgery is a major operation which takes 7 to 9 hours. A urinal catheter must be put in during and after the surgery.
Traditionally, before the operation proceeds, the surgeon will require planning and practice on a prototype. This will require creating two models of the patient's jaws. The models will cost around $2,800, or even $5,400 if they opt for the 3D imaging via CT scan option.
Stage 4: Post-surgical Orthodontic Treatment
After jaw surgery, post-surgical orthodontics are continued, to reach the final alignment of your teeth and keep them in their new position.
So, you'll have to put on your braces back on for few months before switching to retainers. You must avoid solid foods for the first couple of weeks following the surgery. Your diet will consist of milk via syringes.
Types of Jaw Surgery and its Cost
Corrective jaw surgery is also known as orthognathic surgery. This operation is required when your jaws don't fit properly, or your teeth don't suit your jaws.
This not only enhances facial appearance but also assures that teeth meet the right way. Jaw correction surgery runs from $5000 to $80,000 with an average cost of around $20,000.
At Signature Plastic Surgery, the cost of Corrective jaw surgery is around $5,000 – $10,000.
Lower and Upper Jaw Surgery
The Upper jaw surgery is usually performed to fix a severe overbite. The procedure can cost from $3000 to $40,000, with an average cost of $15,000. The cost of upper jaw surgery is generally the same as the cost of lower jaw surgery. However, the costs vary depending on location and condition of the patient. For instance, at the Alpharetta Center for Implant Dentistry, the cost of lower jaw surgery is $12,445. And the cost for both lower and upper jaw surgery is $27,190.
Misalignment of the jaw can cause problems breathing, chewing, speaking and swallowing. It can also cause slight facial disfigurement.
This condition requires a Jaw alignment surgery that could range from $3,500 to $80,000 in price. Those who cannot afford this jaw alignment surgery and need the procedure be done for medical purposes can apply for a government subsidy, if available.
Jaw reduction surgery is often performed for women who have particularly manly, square jaws. This procedure can cost $600 to $17,000.
This Jaw surgery is normally done for cosmetic goals; thus, in most cases, it is not covered by insurance companies. A member of the Realself community shared her experience of with the operation, spending $8,000 for jaw reduction surgery.
This jaw surgery is the same or a little less costly than jaw reduction surgery. The cost of jaw shaving surgery in the United States is $3000 to $10,000.
According to HSU Plastic Surgery, the average cost of Jaw shaving is $7,500 – $8,500.
Quick Comparison of Different Jaw Surgery Cost according to Cost Evaluation
| | |
| --- | --- |
| Types of Jaw Surgery | Price Ranges |
| Corrective | $5,000-$80,000 |
| Upper Jaw | $3,000-$40,000 |
| Lower Jaw | $3,000-$40,000. |
| Jaw Alignment | $3,500-$80,000 |
| Jaw Reduction | $4,000-$10,000. |
| Jaw Shaving | $3,000-$10,000 |
Conclusion
Most people will want to know how much does jaw surgery cost, especially if it is an elective procedure. However, this should not be the only thought, considering whether or not this surgery is going to fix your situation is a much important concern. As such, it is important that the proper manner of discussion with the surgeon be done before addressing the costs.
To learn more about orthognathic or jaw surgery and your options for payment, you are encouraged to contact your preferred surgeon.